Politician demands special unit to tackle farm crime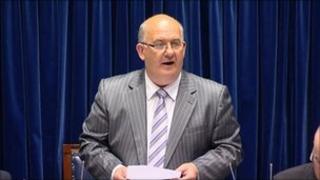 A DUP MLA has called on the police to set up a special unit to deal with farm crime.
William Hay, who represents the Foyle constituency, said organised criminal gangs had been stealing valuable farm machinery and livestock.
Following a meeting with farmers on Monday, he said they were worried about an upsurge in thefts.
In one of the latest incidents, 21 sheep were stolen from a field on the Foreglen Road in County Londonderry.
Mr Hay said the farmers he spoke to felt isolated and vulnerable.
"The police clearly need more resources to deal with this growing problem," he said.
"It's becoming more and more difficult to police the rural area. The criminal gangs are monitoring the farms and stealing expensive machinery and animals to order.
"I am now calling for a special unit to be set up to deal with this problem."
Recently, the police launched an initiative in the north west, encouraging farmers to use text messages to alert them about incidents of crime.