Woman caught up in 'worst rioting in living memory'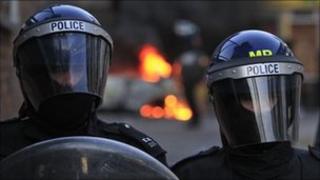 A Londonderry woman who lives in London has been telling how she was caught up in the worst violence in the capital in living memory.
Laura Dunseith was at home home in Clapham Junction on Monday night when rioters went on the rampage for the third night running.
She eventually went to stay at a friend's house after the mob began to loot shops beside her flat.
A man died after being shot during the trouble in Croydon on Monday night.
Laura said it was the most frightening night of her life.
"I went outside and spoke to police and asked if they thought I should stay and they said it was up to me, but really they thought it might be a good idea, so I went and stayed overnight with my friend, Sharon McLeod," said Laura.
"It was quite surreal, to be honest. When I went back and saw the broken shop windows, I had thought if I'd stayed in the flat, I would have been terrified."
More than 500 arrests were made, and more than 100 people charged, during three days of violence in the capital.
Laura said the violence had brought back memories of growing up in Northern Ireland.
"Being Northern Irish, I've seen areas look like that after rioting that took place in my youth, but I never expected to see it in London - especially Clapham Junction," she said.
"I think the main fear most people have is that you don't know where it's going to happen next.
"I was supposed to be meeting friends tonight (Tuesday) in central London, but I think - like most people - I've decided it's best just to go straight home, because you don't know if you're going to be caught up in something.
"I don't think there's going to be so much trouble in Clapham Junction again because they looted and destroyed everything last night."