Campbell demands tougher line against rioters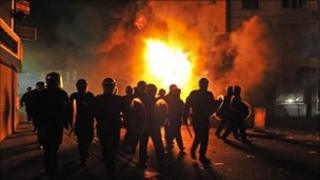 The East Londonderry MP, Gregory Campbell, said that the same response needs to be taken against rioters in England as in Northern Ireland.
Police forces in England have so far not used plastic bullets or water canon to deal with "the worst riots in living memory".
More than a thousand people have been arrested since the trouble began in London at the weekend.
Gregory Campbell said tougher action needs to be taken against the rioters.
"If there is violence on the scale that was seen over the past few days and nights, or over the past 30 or 40 years in Northern Ireland's case, then the same type of action should be taken against both rioters," he said.
"There can't be a differential in scale of response to rioters in Belfast to what there is in Bristol."
The DUP politician said it was "intolerable" that there seemed to be a different attitude from the police to the rioters in England.
"I don't know whether there is a view that in mainland GB, what might be regarded as more extreme action couldn't be tolerated," he said.
"I strongly suspect after this week's events that it'll be more than tolerated; it'll be demanded."