Senior lecturer backs call for dispute investigation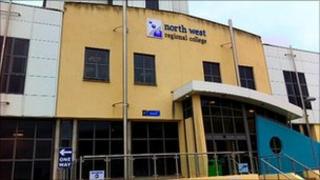 A senior lecturer from the North West Regional College said he fully backs calls for an independent investigation into a bitter staff dispute.
Lecturers and management are involved in an escalating row over redundancies and redeployment.
Gerry Gallagher was told last August that he was being made redundant as Head of School for Community Education.
He said the college cannot be put in a position where it is investigating itself.
Politicians in Londonderry have signed a joint-letter, urging the Further Education Minister Stephen Farry to intervene in the dispute.
The Foyle MP, Mark Durkan, and the six local MLAs have also called for disciplinary hearings and redundancies to be "stalled" in the meantime.
They said they had been contacted by various members of staff who feel aggrieved or concerned by recent developments.
Five lecturers have been disciplined for staging a public protest against the changes earlier this year. Their appeals are to be heard by the college principal and chief executive, Seamus Murphy.
Gerry Gallagher said this amounts to the college investigating itself.
"To the best of my information, the college's internal auditors are carrying out a review of policies and processes; it's not an investigation," he said.
"For these people who have direct experience of what is happening, there's no voice there. There's no one taking statements from them or asking questions, so you have investigating the process, not the events."
Mr Murphy was not available for comment but the college issued a statement, saying that it "abides by all regional agreements negotiated through the relevant staff negotiating committees and consults widely with all trades unions on local issues".
The statement added: "The implementation of all procedures at college level is audited through an internal audit process and all audit reports indicate that college management is compliant in all aspects of implementation."
Some MLAs believe the college does have a case to answer.
Basil McCrea, chairman of the Employment and Learning Committee, said: "It is quite unusual for a committee to write in this particular way and I do expect that we will see appropriate answers.
"I've also made it quite clear, on behalf of the committee, that the college does need to address what are perceived to be failings as soon as possible."