Priest condemns 'bonfire nuisance'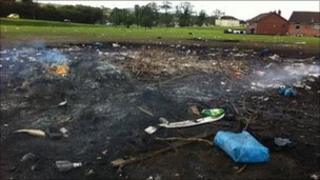 A senior priest has condemned bonfires in Londonderry on Monday night as "a nuisance".
Fr Michael Canny was speaking as the clean-up operation got underway in nationalist areas of the city.
Bonfires were lit in William Street, Creggan, Galliagh, Pennyburn and other parts of the city on Monday night.
Damage has been caused to the car park in William Street, near the Bogside.
Fr Canny visited the scene on Tuesday.
"This is a complete mess here," he said.
"The people who came here yesterday afternoon with their tyres, with their rubbish, with their timber and, the people gathered last night for the fire, making a nuisance of themselves.
"A lot of alcohol was consumed and all they did was create mayhem for people in this area who are mostly elderly. This had nothing to do with the Feast of Mary."
In Galliagh, some residents called for the annual bonfire near their homes to be banned.
One woman, from Moss Park, did not want to be identified in case she was targeted for speaking out.
"The young ones there last night were 10, 11 or 12 and they were blocked," she said. "Out there last night was a nightmare and I'm not going through it.
"I'm a widow. I live in this house on my own and I'm not going through what I went through last night.
"I want that blocked off. The bonfires need to be stopped completely."
Derry City Council said the clean-cut bill throughout the city this year was expected to exceed £6,000.