Heaven-sent blessing for biking enthusiasts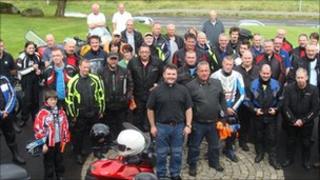 It's not every priest that spends his weekend on a motorcycle, but then Fr Gerard Sweeney is no ordinary priest.
The curate at St Aengus's in Burt, County Donegal, he's also a keen biker, and on Sunday celebrated a special Mass for motorcycling enthusiasts.
Bike fans from as far afield as Galway came to offer prayers for safety on the roads, and have their bikes blessed.
"We pray that the Lord God will keep us safe on the roads and protect us from the danger that's around every bend," said Fr Sweeney.
"One of the people who was at the Mass, he had a serious accident recently and thank God he's still here with us.
"It just takes one slight second and that could be the end all too easily.
"So we think of our brothers and sisters who haven't made it in the past year, and the years before that, and we ask the Lord God to give them peace, and we pray especially for their families who are still grieving for the loss of their loved ones.
"We have a great fraternity in the biking world, and great support, and everyone turned out in great numbers.
"Biking is dangerous, I've crashed myself so I know what it's like, but you have to get back up on the bike and get on with it."