Roadworks criticised for Derry delays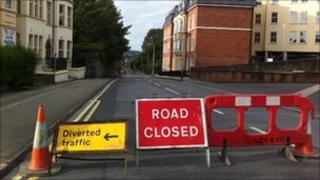 Some motorists in Londonderry have criticised the number of roadworks underway in the city.
They claim they are causing disruption to people trying to get into the centre of Derry.
The road at Queen's Quay has been reduced to one lane. Roads Service said it is to facilitate the creation of a new kerb, and some disruption is inevitable.
Part of Northland Road is closed because of work by NI Water.
Simpson's Brae and part of Trench Road are also shut, and there are roadworks at night beside Free Derry Corner.
Work to upgrade the Culmore Road roundabout has recently finished, and Abercorn Road will be closed from 19:30 to 07:00 BST from Monday 29th August to Thursday 1st September.
One taxi driver, who did not give his name, said it was causing "severe disruption" to business.
"Getting into town's a terrible problem.
"With the Northland Road closed off, and then the roadworks at the back of the quay, everywhere you go is roadworks.
"Why can't they do it at night when there's less traffic about?
"It does have an effect on how much you earn because you can't get back to pick up fares as quickly."
Roads Service said that some disruption is inevitable when roadworks are ongoing, especially on busy roads.
They will continue to monitor the situation and take any steps possible towards minimising the situation.