Pupils lose bus passes over peace bridge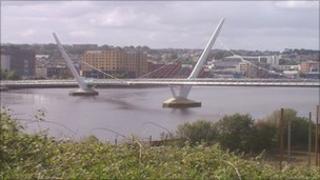 Some schoolchildren in Londonderry will lose their free bus passes because of the peace bridge, the Western Education and Library Board has confirmed.
The bridge brings the journey to school for some pupils under the three-mile threshold for free transport.
DUP councillor April Garfield-Kidd said about 50 families with children at Foyle College will be affected.
A spokesperson from the WELB said a survey to determine eligibility is under way.
"As affected pupils are identified by the survey, the Board will write to all relevant parents and guardians."
'Absolute shock'
The chairman of the board of governors at Foyle College, Robin Young, said Translink should have a special rate for the pupils who have to pay for transport.
"This is something that Foyle can't influence or get involved with, because the Western Board decide who gets a pass and Translink operate the buses, so we have no influence.
"I would ask the Western Board to be more flexible, and Translink to be more creative.
"They must be able to be more creative about what they can do with regard to monthly and weekly passes.
"Of course the solution in the medium term is that the department announce the move of Foyle College to the Limavady Road, which will resolve the bussing situation for the majority of our students."
Councillor Garfield-Kidd said the families she had spoken to were in "absolute shock".
"This was not seen at all on the horizon.
"The peace bridge is a pedestrian route, not a bus service route, but the policy is that a three-mile walking route is deemed to be an acceptable distance for children to walk to school.
"We have to manage the situation as best we can, and I have met Translink and they have gone out of their way to be accommodating and informative, and informed me that there are several options for children with regards to weekly or monthly passes."