Best paw forward for half-marathon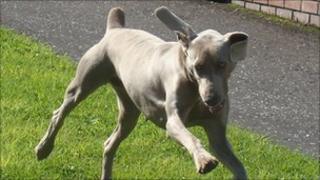 When Ian Galbraith dons his trainers for this year's Waterside Half-Marathon in Londonderry, he'll have the support of an unlikely running partner.
His dog Coco is to take to the tarmac alongside her owner - and Ian says she'll have no trouble finishing the course.
"You'll see us coming across the line and she'll be the one pulling me.
"I've had Coco for two years and she's been running with me all that time, so this year I decided to contact the race organisers to see if she could run the race with me.
"They said yes, no problem, as long as I keep her to the back of the race and away from all the other competitors.
Ian said Coco is a German hunting dog and "she could run for hours".
"That's what they're used to, being on hills and running and running so she'll be well able for this race," he added.
"On Saturday we went out and ran 12 miles, she'd no problem doing that, and as soon as we got home and I took her off the lead in the back garden she was running around again in circles, looking for more.
"We're running the marathon for the Rainbow Rehoming Centre in Eglinton, so we're even thinking about getting her a wee T-shirt."