Trade unionists warn of job uncertainty at Omagh Meats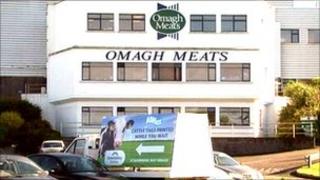 Trade unionists at the Omagh Meats plant have said over 200 workers could be laid off from Tuesday because of ongoing industrial action.
Some workers are on strike in a dispute over the restructuring of several departments.
According to the union, the management has told workers they can no longer guarantee work for them at the factory.
Gareth Scott of Unite said workers did not want to call off the action.
The strike began at the Omagh plant on Friday at 05:00 BST.
Omagh Meats is part of the Foyle Food Group, which also owns Foyle Meats, Donegal Meat Processors, Foyle Proteins and Hilton Meats in Cookstown.
Mr Scott said: "What we wish to do is to reach a compromise, a solution and resolution to this dispute.
"Calling off the action will not resolve the problems.
"What the employer needs is to get around a table and discuss these, rather than turn around and say there's no problem. There is a problem."
A spokesperson for the company said: "We are in production at the moment and we have no further comment to make."