Lack of accommodation fears for Derry City of Culture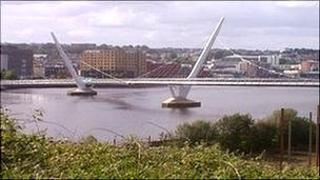 A Londonderry businessman has warned Derry is not ready for its year as City of Culture.
Eddie Kerr, who was instrumental in securing the WOMAD, World of Music Arts and Dance, festival for Derry in 2013, said there will not be enough accommodation for visitors.
The festival is expected to attract between 40,000 and 60,000 people.
There are currently around 500 hotel beds in the city, with plans to build six more hotels.
Mr Kerr said it was not just about building hotels, "I'm encouraging people to think about bed and breakfast, guest houses, about utilising empty spaces. We have factories that could be refurbished.
"I have people coming from WOMAD in the next month who will be asking, 'where do people eat and stay stay?'
"At the moment those we cannot answer that question.
"We've got to get our act together as a city," he said.
Derry City Council's development officer, Una McGillion, said she believes accommodation will not be a problem.
"It has to be ready, there's no doubt about it.
"We're confident that everything will be in place.
"There's a strong base of local hoteliers who are looking to expand and develop new hotels and that's what we want to support," she said.
Derry was chosen as the UK's inaugural City of Culture in July 2010. Since then a number of high profile events have been planned for 2013.