Altnagelvin doctor lied about qualifications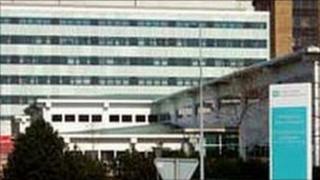 A doctor who worked at Altnagelvin Hospital has been suspended by the General Medical Council (GMC) after he lied about his qualifications.
Dr Aref Al-Awa was a staff doctor at the hospital in Londonderry for one year.
He has not been struck off as the GMC found the public was not put at risk by his dishonesty, and he was an otherwise competent doctor.
Dr Al-Awa cannot work as a doctor in the UK for one year.
His case was examined by the GMC's fitness to practice panel on 28 July.
He was found guilty of lying about his qualifications on a number of occasions over a six year period.
He was suspended from the GMC's register for misleading and dishonest conduct.
The hearing was told that in 2003 he successfully applied for the post of staff doctor at Altnagelvin, his C.V had contained false information.
In 2009, he was granted a pay rise on the basis of similar false statements, including a claim that he had gained membership of the prestigious Royal College of Surgeons.
Witness evidence described him as an "excellent surgeon", and he has apologised for some of his actions.
The Deputy Chair of the Stormont Health committee, Jim Wells, has called for the Western Health and Social Care Trust to disclose further details about the case.
"The public will want to know if the Trust made an attempt to recoup the money which was falsely paid and if so has it been forthcoming?
"This is tax payer's money that could be diverted to important health provision," he said.
The Western Health and Social Care Trust declined to comment on the issue, and said it was their policy not to comment on individual cases.