Altnagelvin Hospital wards closed due to virus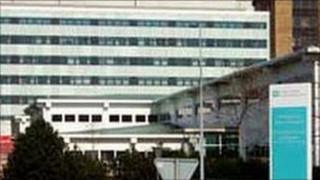 Two wards in Altnagelvin Hospital have been closed because of a vomiting virus.
The Western Health and Social Care Trust said there has been an increase in vomiting and diarrhoea among patients.
A medical ward and an orthopaedic ward have been temporarily closed to new patient admissions.
The public have been urged not to visit patients if they have been feeling unwell themselves.
The trust said increased infection control measures have been taken including increased cleaning.
Alan Corry Finn, the executive director of nursing with the trust, said: "The public has an important role to play by not visiting the hospital if they are feeling unwell, particularly if they have diarrhoea and/or vomiting.
"We are asking relatives and friends of patients in hospital for their understanding and co-operation with the nursing staff with the arrangements which have been put in place in the interest of patients."