'Axe' murderer to face retrial due to conflicting evidence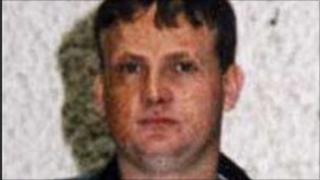 A teenager jailed for the murder of a traveller hacked to death in front of his wife is to face a retrial, the Court of Appeal has ordered.
Senior judges allowed 18-year-old Martin Stokes' appeal against being convicted of killing John Mongan.
This was due to conflicting witness descriptions and a sense of unease about the safety of the verdict.
Appeals by Christopher Stokes and Edward Stokes, who were also both found guilty of the murder, were dismissed.
Mr Mongan, 30, was attacked with hatchets and other bladed weapons after intruders broke into his home at Fallswater Street, west Belfast in February 2008.
The father-of-three was killed in front of his heavily pregnant wife Julia, suffering up to 50 wounds, some possibly inflicted by a sword or machete.
The killers had smashed through a barricaded bedroom door to get at their target.
The accused, all from Londonderry, were jailed by a judge who told them they had taken the law into their own hands in setting out to "slay" the victim.
All three were found guilty of murdering Mr Mongan and sentenced to a combined total of at least 58 years in prison.
Edward Stokes, 39, was told he would serve at least 22 years of a life sentence, while Christopher Stokes, 35, was given a minimum 20-year tariff.
Martin Stokes, who was just 15 at the time of the murder, was handed a minimum 16-year term.
Mr Mongan's wife, who was due to give birth the day after the killing, described how she had pleaded with the intruders not to attack him.
'Lied throughout'
She said in evidence that she witnessed the murder and named all three defendants as the killers.
Their challenge to the safety of their convictions has centred on the reliability of Mrs Mongan's testimony.
Crucially, she stated that all three of them were unmasked and that she could see their faces.
Defence lawyers claimed in the Court of Appeal that she lied throughout her evidence about what happened on the night her husband was killed.
During a three-day hearing it was also contended that confusing instructions were given to the trial jury.
Mrs Mongan had at first referred to Martin Stokes as Tom and gave three significantly different descriptions of him, including that he was over 6ft tall and 18 stone in weight.
His custody record showed he was 5ft 6in in height and 15 stone.
Delivering judgement in the appeal, Lord Chief Justice Sir Declan Morgan said the potentially conflicting descriptions were not drawn to the jury's attention.
Evidential issues meant a direction dealing with the possibility of an honest mistake was necessary in the case of Martin Stokes, he added.
Sir Declan said: "The different descriptions formed part of the defence case but were not mentioned in the charge.
"We are left with a sense of unease about the safety of the conviction of Martin Stokes. We therefore allow his appeal and order a retrial."
Edward Stokes's legal team had claimed there were countless possible explanations for the victim's blood being found on his shirt.
Sir Declan, sitting with Lord Justice Higgins and Lord Justice Coghlin, held that the jury was entitled to rely on it as powerful evidence that it was the victim's blood discovered on Edward Stokes's shirt on the morning of the murder.
Counsel for Christopher Stokes sought to play down the significance of cell site analysis evidence linking his phone to the murder scene and to County Fermanagh where a burnt out Isuzu Trooper vehicle was found hours later.
Sir Declan said the jury was entitled to draw an adverse inference from his failure to deal with the connection by giving evidence.
Dismissing the appeals by Christopher and Edward Stokes, he said neither man's conviction was considered unsafe.