Funding shortfall impacts on cross-border ferry service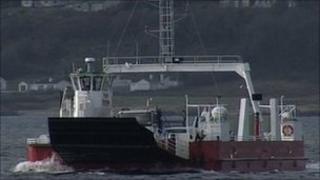 A cross-border ferry which sails between Donegal and County Londonderry will not run this winter, according to its operator.
The Lough Foyle Ferry Company says a shortfall in funding has made the winter service unsustainable.
The ferry operates between Greencastle and Magilligan and has carried over two million passengers since 2002.
It is hoped the service will resume in January.
The ferry made it's final sailing for the season on Sunday.
Jack McAnerney, a director of the company, said it was a sad day.
"This is the first time in nine years that we have had to tie up the boat. The base we are working from is small, but the catchment area is huge.
"The business is there."
Mr McAnerney said seventeen people will be out of work.
"It's unrealistic to ask for the service to be self-sustainable. The funding we get from the councils in Donegal and Limavady has been dwindling over the last few years.
"We cannot continue any longer".
Donegal Sinn Fein TD, Padraig MacLochlainn said the money to meet the level of funding the ferry operator claims is needed is no longer there.
"In these difficult times, there is only so much of the well left to give from. I would have no difficulty with the reduced subsidy from Donegal County Council and Limavady Borough Council.
"They have done more than they could have been asked for from the start."
Limavady Borough Councillor, Edwin Stevenson, said the ferry service must stand on its own two feet.
"I was never happy with rate-payers being asked to prop up what is a private enterprise. I do not think this has to be the end of the service."