Thieves 'rip hole' in roof of Maghera horse-riding centre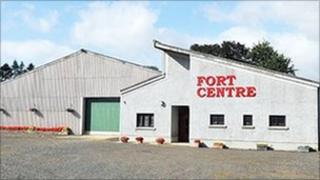 The owner of a horse-riding centre for disabled children has said it will cost thousands of pounds to repair a roof damaged by thieves who tried to break into the premises.
Damage was caused to the roof and a wall of the Fort Centre in Maghera at the weekend but nothing was taken.
Owner John McCloskey said it's the fifth time the centre has been targeted in the last six years.
The police in Magherafelt are investigating.
The Fort Centre provides horse-riding lessons to children and young adults with disabilities free-of-charge and is staffed by volunteers.
Mr McCloskey said a large hole was ripped in the roof.
"Why should they attack a centre like ours where we deal exclusively with disabled children and young adults.
"I'm just wondering how long we can go on like this. We just cannot afford it. It is going to cost a couple of thousand pounds to get the roof fixed."
Mr McCloskey said despite the damage, it was business as usual at the centre on Monday.
"The rain is pouring through the roof but we have not had to cancel any rides."