Western Trust warns of strike disruption to services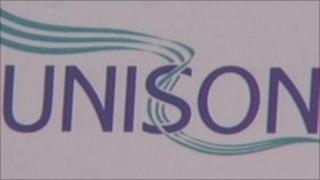 The Western Trust has said services will be under sustained pressure in hospitals on Wednesday as health and education workers across Northern Ireland take part in a 24-hour strike.
The strike will affect all health workers except doctors, and some school staff, and began at midnight.
The Western Trust said it has agreed with Unison representatives a protocol which will maintain emergency cover.
The walk-out is in protest against front-line budget cuts.
There are picket lines at Altnagelvin Hospital in Londonderry and Tyrone County Hospital in Omagh.
Pickets are also being held outside a number of schools.
The Western Trust said services will continue in residential and children's homes.
The Health Minister Edwin Poots has accused the trade unions of 'hurting the ill and vulnerable'
Ann Donnelly from Unison said members are standing up for the most vulnerable people in society.
"The reason we are out is not about pay rises or anything else.
"We are out because of cuts to our services, cuts that have been horrific in the last number of years."
The Western Trust has set up an information line for patients concerned about their appointments.
They can check what services have been affected on 028 7161 1252.