Teen alcohol abuse conference begins in Derry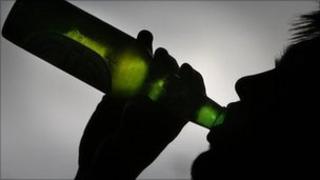 A conference aimed at highlighting the need to reduce access and availability of alcohol to under 18s is to be held in Londonderry.
The event has been organised by the Derry-based 'Drink Think' project.
The Chief Executive of the Public Health Agency, Dr Eddie Rooney, will make the opening address at the conference on Wednesday.
The findings of an audit of 12-17 year olds which focused on alcohol intake and habits will also be discussed.
Joanne Smith, from the 'Drink Think' project said the availability of alcohol to young people will be a key focus of the conference.
"We know from talking to young people that they are very much aware of the health and social impacts of alcohol but it does not mean anything to them in real terms.
"Our jobs as adults is to stop them getting their hands on alcohol in the first place.
"I do not think the solution to this problem is anything new or innovative. It is just about everybody, including parents, education workers and licensed traders stepping up to the mark", she said.