Protesting Creggan residents block construction site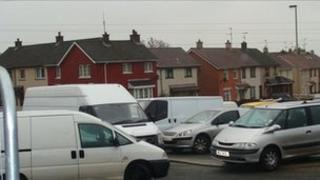 A group of residents in the Creggan area of Londonderry have blocked the entrance to a construction site in their estate in protest over on-going road works.
Some Circular Road residents used cars and vans on Wednesday to prevent workers gaining access to the site.
The group say their lives have been turned "upside down" by the disruption.
Apex, the housing organisation carrying out the works, have been contacted but have yet to respond to the claims.
Circular Road resident Michael Harkin said they have been told the work will continue for the next three years.
"It is like living on a building site. There are lorries going up and down.
"We cannot live like ordinary people.
"You cannot park your car or get a taxi. We will continue protesting as long as it takes."
Resident Gerard Gibbon said the disruption has become unbearable.
"My mother had to go to hospital and she had to park her car outside the square. She could not get out.
"It is a nightmare", he said.