Omagh trauma centre to close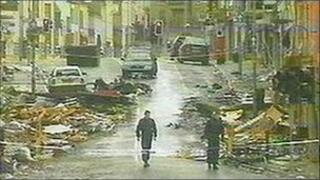 A trauma centre, set up after the Omagh bombing, could close within months because of a lack of money.
The Northern Ireland Centre for Trauma and Transformation opened in Omagh in 2002 to help people who have suffered because of the Troubles.
More than 600 people from across Northern Ireland were treated there over the past nine years.
Twenty-nine people and unborn twins died in the Real IRA attack in 1998.
The centre's director said there were still many people in need of the services it provides.
"Our treatment programme around 2002, to 2006, was around 200 people a year," said Barney Devine. "It's now down to 50 per annum.
"Whilst we were operating on a fairly regional basis, we're down now to operating in the Omagh, Strabane, Fermanagh, Dungannon, Cookstown areas.
"The centre does plan to close by the end of December. The reason for that is that we are losing core staff and we cannot offer the type of security to the type of staff we require."