Judo centre of excellence for Derry gets go-ahead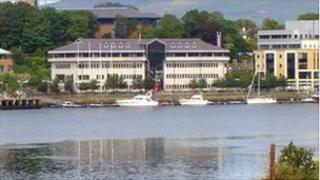 Ireland's first ever judo centre of excellence is to be built in Londonderry.
Derry City councillors approved plans for a new sports campus at St Columb's Park in the city on Monday.
Along with the judo centre, the campus will contain a new swimming pool, a fitness centre and a multi-sports hall.
The nearby Lisnagelvin Leisure Centre will be closed down and the land sold to raise funds for the new centre.
The existing leisure centre at St Columb's Park will also close.
Barry O'Hagan from Derry City Council's development department said plans for the judo centre have been in the pipeline since 2005.
"It got various knock-backs from government funding but it is now happening.
"The judo centre of excellence will be merged with a multi-purpose hall that will have a retractable wall so it can also be used for large-scale events for City of Culture and beyond."
The Chairman of the Northern Ireland Judo Federation, Robbie Irwin, said the sports campus will be located near the site of St Columb's leisure centre and will be able to hold up to 2,000 people.
"The centre is great news, not just for Derry, but for Northern Ireland.
"Derry City Council have seen what was needed and gone on without funding from Sport NI to make this project happen.
"I really hope it is ready for City of Culture. A lot of work has already been done to push the project on."