£30,000 to replace cable stolen from Derry streetlights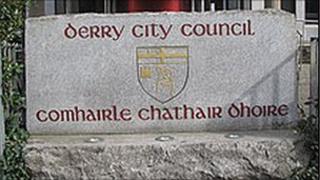 Derry City Council has said it will cost £30,000 to replace electrical cables which have been stripped from street lights.
Lighting at pathways running alongside playing pitches at Prehen has been extensively damaged in recent weeks.
Thieves have also stolen lights from a pedestrian and cycle network between Templemore Sports Complex and Sandbank Cottages.
The council has switched off the remaining lights to carry out repairs.
Senior Recreation and Leisure Officer with Derry City Council, Jeff Ashe, said the darker evenings mean the thefts have caused serious inconvenience to residents, pedestrians and cyclists.
"The way in which the cables have been stripped out and the posts vandalised has caused extensive damage and means it is not safe to have power running to any of the lights along the routes.
"Because of their actions, these indviduals have created a situation that presents a serious hazard to pedestrians and cyclists using these pathways.
"The action of stripping out these cables poses a great danger to whoever is doing this.
"There was still power going to these lights and the potential for serious injury if not death was very real," said Mr Ashe.