Derry man fears for life after masked men attack home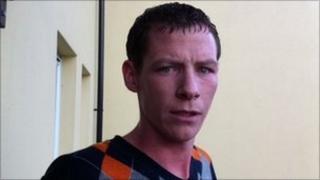 A 24-year-old man has said he fears for his life after a masked gang smashed their way into his mother's home in Londonderry.
The attack happened in Dove Gardens in the Bogside at about 2200 BST on Tuesday.
Aaron Thornton said he believed the men had come to murder him.
He has admitted he used to be a drug dealer, but insists he doesn't sell them any more, and says he has had to leave the city.
"I've learnt my lesson. I do still take drugs and I do have a drug problem, but I'm not a dealer.
"Now I'll obviously have to leave town again until things have settled down."
He said it was the second time the house had been targeted.
"They tried to get in the door and they couldn't get in, so they just started shooting at the house.
"They went away, but it's just over a year and they're back again.
"I've done nothing to nobody, I've been keeping my head down."
Mr Thornton blamed the republican vigilante group, Republican Action Against Drugs, for the previous attack.
The police have said they're investigating the incident, and want anyone who saw anything suspicious in the area to contact them.