Police warn Derry vigilantes will kill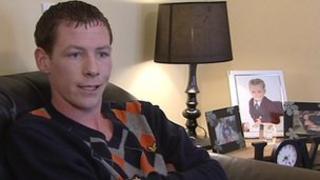 A senior PSNI officer believes republican vigilante groups will kill someone if they continue their "reckless campaign of attacks and intimidation".
Thirty-six people are under threat from groups in Londonderry, according to the Peace and Reconciliation Group.
Area Commander Chief Inspector Jon Burrows described the groups as "idiots".
"They want to drag us back to the past," he added.
"Crime is at its lowest level in 13 years and we are making people safer without having to turn to these vigilante thugs."
PRG's Michael Doherty said the figure included 20 young people who have been forced out of Derry since August.
The Church of Ireland Bishop of Derry and Raphoe Ken Good also condemned the groups.
"It is worrying - I think it's worrying, it's divisive, it's intimidating - it's the sort of thing that shouldn't be happening in a civil society, in a society that wants to move forward," he said.
Dr Seamus Hegarty, the Catholic bishop of Derry, added: "We have to get that out of the ether in this city because it's been far too long. People are suffering, people are afraid and people are anxious."
'Dead man'
Former drug dealer Aaron Thornton, 24, left the city on Wednesday, and said he fears for his life after masked men attacked his mother's house in the Bogside.
"As they were leaving one of them shouted 'he is a dead man and we'll be back to get him'," said Mr Thornton.
"I'm only hearing this from neighbours and people in the street. I don't know much more.
"I know I have drug issues over the years and I am getting help for that, but I have had a clean slate for the last year."
Mr Doherty said the PRG was doing everything in its power to help Mr Thornton.
"At the moment we're trying to get some negotiation going around Aaron Thornton to see if we can get the death threats against him lifted," he added.
"I will talk to anyone anywhere at any time to save people's lives."
The Peace and Reconciliation Group was established in 1976 to promote a "peaceful and inclusive society in Northern Ireland".