Romanian teenager pleads guilty to stealing aftershave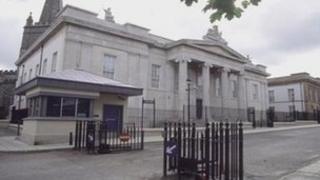 A Romanian teenager has pleaded guilty to stealing eight bottles of aftershave from a Londonderry department store.
19-year-old Robert Christian Bicler, of Station House, Pearse Road in Letterkenny, appeared before Londonderry Magistrates Court on Wednesday.
He also admitted possession of a tin-foil lined bag which he used to conceal the bottles.
Bicler was given a five-month jail sentence, suspended for two years.
The court was told Bicler, who recently arrived in Ireland from Italy, took the aftershave, vauled at £285, from Debenhams' Foyleside store on Tuesday.
District Judge Barney McElholm was told Bicler had previously been given a police caution for stealing perfume from the same store in October.
Defence solicitor Walter Hegarty said because of some "cultural peculiarities" in areas of Romania, shoplifting was not regarded as a serious criminal offence.
He also said Bicler planned to sell the perfume and send the money to his ill mother in Romania.
The judge said such behaviour put at risk the jobs of shop employees.