Thousands attend Halloween celebrations in Derry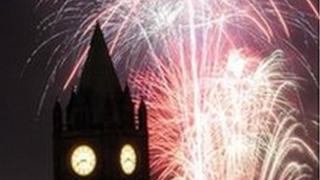 Thousands of people gathered in Londonderry city centre on Monday night as the Banks of the Foyle Halloween Carnival reached its climax.
The highlight was a carnival parade followed by a fireworks display which many watched from the Peace Bridge.
The ambulance service say a number of people were treated in the city centre for minor injuries and three people were taken to hospital.
The police made six arrests.
Superintendent Chris Yates said up to midnight, it was a quiet night.
"I think the message is getting through, we haven't seen the same sort of street anti-social behaviour and violence over the past couple of years," he said.
"I think there was a similar number of people that turned up for the family friendly events, but what we haven't seen is the groups gathering and getting involved in really nasty street violence."
Although there were no major incidents, some people were treated in the city centre or at Altnagelvin Hospital.
John McPoland from the Ambulance service said his crews dealt with mostly minor injuries.
"There was nothing serious or life-threatening, everyone seemed to have enjoyed themselves and it seems to have passed off very well," he said.
"It was a very busy night, it's a credit to everybody who attended the event, our crews and those who organised it."