Auditors express concern over Derry advice centre funding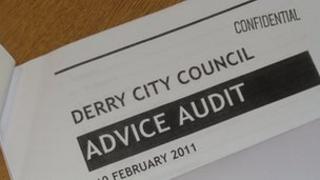 A council audit into three community centres in Londonderry has raised concerns over the funding of their advice services.
The audit report found that Galliagh Integrated Advice had inflated its user figures by 300%.
Dove House and Rosemount Resource Centre were also found to have wrongly recorded figures.
The centres accept that some figures were wrong, but deny any intention to mislead.
The audit report was obtained by BBC Radio Foyle after a Freedom of Information request.
Derry City Council allocates funding to five community centres to provide advice services.
Money is allocated according to how many people use each provider.
Two of the providers - Citizen's Advice Bureau and Carnhill Resource Centre - received a clean bill of health.
However, the audit carried out by Williamson Consulting in 2010 identified "serious limitations" in the recording methods of the three other advice centres.
At the centres in Galliagh, Dove House and Rosemount, the auditors found that issues raised by clients were being wrongly recorded as separate users, rather than points raised by the same person.
Therefore, according to the audit report, there was the potential for all to be offered higher levels of funding than they deserved based on their actual client load.
Galliagh Integrated Advice claimed its advisors dealt with 10,715 separate issues in 2010, yet the audit found just 1,163 individual names on its database.
The audit report said this seems "highly unlikely".
It said that contact figures at the Rosemount Resource Centre were also inflated, and may be at least 200% higher than the real figure.
The report also found that the figures kept by Dove House were difficult to explain, and suggests some proportion of their records had not been entered accurately.
Workload
It recommended that an appropriate correction is applied to the statistics kept by Galliagh Integrated Advice, Dove House and Rosemount to ensure the level of funding provided better reflects their actual workload.
Brian O'Doherty from Galliagh Integrated Advice said there was never an intention to mislead.
"We didn't manipulate the figures to get more funding from Derry City Council," he said.
"The funding was already done for two years. We just highlighted it to show there were anomalies within the recording system."
Gerry McColgan from Derry City Council said there was potential for the three groups to get more funding than they were entitled to.
"Inaccurate information was being inputted into the information system and that was flagged up by the audit.
"To ensure it doesn't happen again we need to undertake intensive work with the agencies concerned to address those issues."