Derry police publish wanted photos on website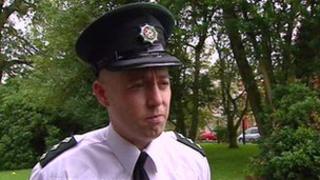 For the first time, the police in Londonderry have published pictures of people who failed to turn up to court on their website.
They say it follows their success in publishing images in newspapers of those suspected of being involved in summer rioting.
About 150 people were arrested and 300 warrants cleared as part of Operation Relentless.
Inspector Jon Burrows said the website "allows to widen our search area".
"This is the first time we have used the PSNI website to order to locate people wanted on warrant.
"We have pursued every reasonable option to find these people via other avenues, including releasing their images in local papers.
"The PSNI website allows people who may not have access to newspapers to look up the images and see if they can help us find these people.
"Police are also checking passenger lists at ports to locate persons who have failed to turn up at court and to date three people have been arrested at airports.
"Anyone who has outstanding warrants should surrender themselves to the police or the court before booking holidays or taking flights or ferries or face possible arrest at an inconvenient time."