Jim Gilchrist's family shocked by killer's release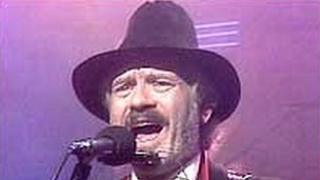 The family of murdered Londonderry musician Jim Gilchrist have said they are shocked one of his killers has been released from jail.
Daryl Quigley admitted manslaughter and was sentenced to 10 years in prison in 2008.
He qualified for release because the killing happened before a change to the 50% remission rule.
Mr Gilchrist's daughter Anne said it felt like an "insult".
"We knew he would get out early, but it's hard to take that he's walking the streets," she said.
"I understand people have to get on with their lives no matter what crimes they've committed, but we can't get on with our lives in the same way as we did when Daddy was here.
"I feel quite angry, and annoyed, that he's been released.
"He did try to apologise to the family in court, but to me it's not good enough. It's too late.
"The pain will never ever go away. You learn to deal with things, but you're don't ever forget the pain.
"When I think of what happened to Daddy, the pain hits you like a wave, and that'll never diminish."
Mr Gilchrist was murdered in September 2005 as he rode home on his bicycle from a meeting with his local motorcycle club.
His body was recovered from the River Foyle the following day.
In 2008 Anthony Fahy was sentenced to life imprisonment for Mr Gilchrist's murder.
Both Daryl Quigley and Daniel Young were jailed for 10 years for manslaughter.