Strabane bus driver guilty of dissident republican murder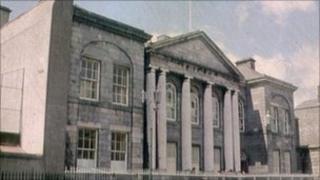 A Strabane man has been found guilty of the dissident republican murder of a man in a church car park in Donegal.
Andrew Burns, 27, from Strabane, was shot twice in the back in February 2008.
Martin Kelly, 36, from Barrack Street, had denied the murder at Dublin's Special Criminal Court.
He had been accused of being part of a "joint enterprise" to lure Mr Burns to the car park at Doneyloop in Donegal where he was shot.
In court on Thursday, he was also found guilty of having a firearm with intent to endanger life.
Kelly's trial began in early October but after two days of evidence the court started a "trial within a trial" to decide on the admissibility of statements made by Kelly while in garda custody in Letterkenny and a statement made by Kelly to two senior gardai at a hotel in Northern Ireland.
The "trial within a trial" lasted 12 days.
In court, the prosecution argued that Kelly was part of a plot to lure Mr Burns to Doneyloop. The pretext was that he was required to go on an IRA operation to murder a PSNI officer.
When they got to Doneyloop they were met by three men, known as members of Oglaigh na hEireann.
'Feared for life'
Kelly claimed he had been asked to deliver Mr Burns to the car park for "a punishment beating or shooting". He said he knew it was "an IRA operation" but had never been sworn into the organisation.
On the day of the murder, he said that he picked up Mr Burns in Strabane and drove him in his car to the car park.
A gunman tried to shoot Mr Burns, but the gun failed. Mr Burns started to run towards the car park exit, the gunman ran after him and fired a shot which injured him.
Kelly said that the injured man stumbled but kept running towards the church. A second shot was fired and he fell.
Kelly told the court during the "trial within a trial" that after his arrest, when he was taken to Letterkenny Garda Station, he was "in fear for his life".
The court remanded him for sentencing pending a victim impact statement which will be heard on 24 January next year.