Judge criticises no-show lawyers in murder case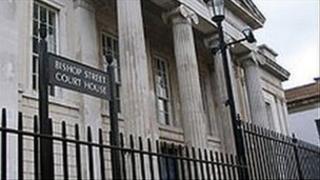 A judge has criticised a Belfast legal firm for failing to turn up in court to represent a woman charged with murdering her husband in Londonderry.
Suwei Shang, 38, is in custody accused of murdering Damien Keenan in their Francis Street home last month.
Solicitors from Finucane and Toner failed to appear for a bail application at the city's magistrates' court.
District Judge Barney McElholm adjourned the application until January.
He said the firm's absence was "completely unacceptable".
However, a spokesperson for Finucane and Toner said that they were surprised by the judge's comments.
"Our client had a bail application listed this morning and after consultation with her it was agreed that the application would not proceed today," they said.
"The Public Prosecution Service were notified in writing on 9 December of this development.
"We are concerned that the district judge was not made aware of this and have contacted his office."