Woman charged with Derry stabbing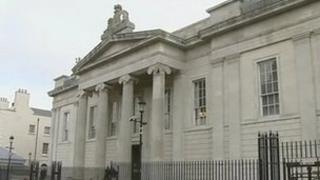 A woman has appeared at Londonderry Magistrate's Court charged with causing GBH to another woman in the city on Saturday.
Donna McKeefrey, 21, of Barnewell Place was charged with causing grievous bodily harm with intent on 10 December.
Police were called to a house in Barnewell Place and found the injured party in a highly distressed state with several puncture wounds.
Ms McKeefrey was released on bail to appear in court again in January.
The alleged injured party told police she had been drinking with some others and they had run out of alcohol.
She said that she called to a house of someone she knew slightly to ask if he had any.
She claimed that she was invited in before a row started with another woman, and she was stabbed several times.
She had puncture wounds to her arm, thigh and abdomen.
Police searched the house and recovered a broken steak knife.
Later the police received a call from someone who said the defendant was willing to hand herself in.
At interview, Ms McKeefrey said that the injured party had started bragging to her about being in prison for stabbing someone.
She claimed a fight had started and she saw the knife and picked it up before the other woman could.
She admitted stabbing the other woman.
Ms McKeefrey was released on bail on condition that she wears a tag, does not enter the waterside area of the city and observes a curfew.
She will appear again in court on 26 January.