BBC ordered to hand over Apprentice Boys parade footage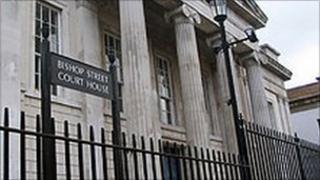 A court has ordered the BBC, UTV and ITN to hand over all unbroadcast television footage relating to disturbances during the Apprentice Boys parade in Londonderry in August.
Judge Piers Grant said he was satisfied it might contain relevant evidence.
A barrister for the news organisations argued that granting the application could pose a real and present threat.
Vehicles were hijacked and petrol and pipe bombs were thrown at police after the parade on 13 August.
A barrister for the BBC, UTV and ITN told Londonderry Crown Court that granting the PSNI's application would mean members of the news organisations could be deemed evidence gatherers, and a "limb of state".
Judge Piers Grant said the application related to serious public order disturbances in the Bogside which appeared to have been activated by members of "the so-called dissident IRA".
He said journalists were properly present to record TV footage of what occurred, but said there was an anxiety on the part of the participants in the disturbances to avoid detection by wearing scarves or balaclavas in an effort to conceal their identities.
Judge Grant said he was therefore satisfied there may be relevant evidence in the unbroadcast material, and it might be possible to identify people who later became involved in the disturbances by their clothing.
He said he was not satisfied that the handing over of unbroadcast material to the police would cause a risk to the life or limb of news photographers, nor did he believe they would be viewed as evidence-gatherers on the part of the police.
He said there was no evidence this had happened in the past.
Judge Grant said there was a balance between the public interest and the detection of serious offences and in this application the balance fell in favour of the disclosure of unbroadcast material.
He ordered the BBC, UTV and ITN to hand over to the PSNI all unbroadcast material recorded in the Bogside between 1600 BST on 13 August and 0100 BST on 14 August.
A spokesperson from the BBC said they were "disappointed with the ruling".
"Our challenge to the police application was to ensure the independence and safety of our journalists whilst covering public disorder, often under difficult circumstances."
UTV declined to comment.