Action call after wall collapse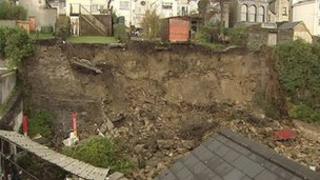 A SDLP councillor has called for action after a wall in Londonderry gave way for a second time on Saturday.
On Wednesday, a 30ft section of the wall in Marlborough Terrace collapsed causing a landslide which crushed cars.
Cllr John Boyle was at Marlborough Terrace when the wall collapsed on Saturday.
"The situation in the Marlborough area is intolerable for local residents and it's obviously deteriorating rapidly and is very serious," he said.
"The problem is much bigger than anything Derry City Council can handle on its own.
"Council staff have been doing their utmost to keep people safe and they must be commended for their work.
"It's now time that leaders in Stormont take the situation seriously and act decisively to support the city council in alleviating the anxiety and suffering of local people."
Police had diverted traffic away from the area on Saturday afternoon.
Gerry Wilson, a resident at Marlborough Terrace, said a larger section collapsed on Saturday afternoon.
He said people in seven houses had been told to leave their homes. This is due to a possible further collapse.
It is understood officials from the Department of Environment were tasked to attend.
In a separate incident on Thursday, 50ft of a wall in Harding Street, near Abercorn Road in the city, collapsed.
Derry City Council said they visited Harding Street to inspect the collapse of a retaining wall, and made the area secure.