McGuinness inspects Derry wall after second section collapses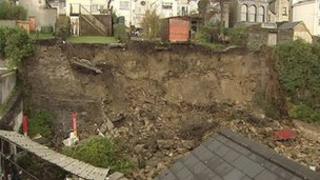 The Deputy First Minister Martin McGuinness has inspected the damage caused after a second section of a wall near houses in Londonderry collapsed.
On Wednesday, a 30ft section of the wall in Marlborough Terrace collapsed causing a landslide which crushed cars.
A second section of the wall gave way on Saturday afternoon and residents were asked to move from seven homes.
Sinn Fein MLA Martina Anderson said residents had "every right" to feel frustrated at the situation.
She said she had asked for a structural assessment to be completed on Friday, along with Mr McGuinness.
A structural engineer came to inspect the site on Sunday.
"We know there is a shed and a further wall that are going to come down, so we've asked the residents to stay away from the back of the houses," she added.
"There also needs to be a cleaning operation done.
"Residents have every right to be frustrated.
"We've been on the ground with them since Thursday night and we were alarmed more immediate action wasn't taken."
SDLP councillor John Boyle was at Marlborough Terrace when the wall collapsed on Saturday.
"The situation in the Marlborough area is intolerable for local residents and it's obviously deteriorating rapidly and is very serious," he said.
"The problem is much bigger than anything Derry City Council can handle on its own.
"Council staff have been doing their utmost to keep people safe and they must be commended for their work.
Fearful
"It's now time that leaders in Stormont take the situation seriously and act decisively to support the city council in alleviating the anxiety and suffering of local people."
Ms Anderson said the head of the civil service was available to help Derry City Council with the processing of any paperwork.
"The executive departments are here to help in whatever way they can and we have encouraged Derry City Council to avail of that support," she said.
"The head of the civil service will be able to help the council navigate through whatever is required to make sure that work starts immediately."
Police had diverted traffic away from the area on Saturday afternoon prior to the collapse of the wall.
Gerry Wilson, a resident at Marlborough Terrace, said more needed to be done to tackle the issue and that people were fearful for their properties if there was another spell of bad weather.
In a separate incident on Thursday, 50ft of a wall in Harding Street, near Abercorn Road in the city, collapsed.
Derry City Council said they visited Harding Street to inspect the collapse of a retaining wall, and made the area secure.
The council has reiterated its advice to residents in the Marlborough Terrace, Harding Street and Abercorn Road areas to refrain from entering their back gardens following the incidents.
"The council is committed to continuous inspections in these areas and both locations remain closed to public access due to health and safety," a council spokesperson said.
"Council is also seeking specialist advice to assist with an assessment of the remaining wall structure in the Marlborough Road area.
"We will continue to liaise with all the necessary public agencies to provide advice and support to residents at this time."