Gary Butcher brother "devastated" by Shaun Doherty sentence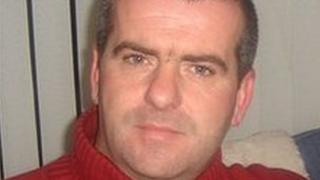 The brother of a man who died after he was punched in a bar in Magilligan has said he is angry at the sentence handed down to his attacker.
Gary Butcher, 39, died from head injuries after the incident at Bob's Bistro in July 2010.
Shaun Doherty, 21, from Bawn Court in Limavady, was given a two a half year sentence after pleading guilty to manslaughter.
Martin Butcher said his family was devastated by the sentence.
"It doesn't serve as a deterrent to young boys to behave in that sort of manner," he said.
"We thought we were going to get a good verdict, but it wasn't taken on board".
Doherty will serve 15 months in custody and 15 months on licence.
He had admitted punching his victim once on the chin which caused him to fall backwards and bang his head off a wall.
His brother Kevin Doherty, 26, from Limestone Road in Magilligan, admitted a charge of common assault on Mr Butcher by standing on the victim's chest after he had fallen.
He was given a six-month sentence suspended for two years.
Judge Piers Grant said that on the night in question an argument took place inside the bar, between Mr Butcher and the father of the two defendants.
He said there had been a long-running dispute between the Butcher family and the Doherty family in relation to the sale of some land.
The court was also told that excessive alcohol consumption had played a role in the tragedy and the fatal injury resulted from the fall rather than the blow.
Judge Grant said that Shaun Doherty had punched a victim who was wholly unprepared to defend himself and he would have to live with that for the rest of his life.
He acknowledged the Butcher family and their sense of loss, but said he hoped the expression of genuine remorse by the Doherty brothers would of some comfort.