North West battered by storms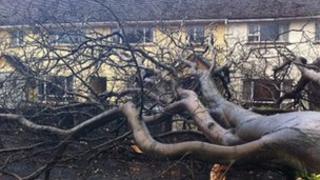 Winds of up to 105 mph are causing disruption across the North West.
The Met office has issued an amber warning. The strongest winds recorded so far are in Castlederg in County Tyrone.
In Londonderry, wind speeds are up to 90 mph and fallen trees are causing disruption to traffic.
Met Éireann has also issued a weather warning, with winds gusting at up to 140km an hour in County Donegal.
A pensioner was left badly shaken after a tree fell into his garden in Broomhill Avenue in Derry on Monday night.
Samuel Douglas, who is 88-years-old, said it was "very distressing" for both himself and his wife.
"The tree was in our garden, it's the second time it's happened in six months. We are worried out of our wits about these trees," he said.
"The tree is right up against the wall, we are fortunate the windows didn't break. If this had happened later on when children are around someone could have been killed."
NIE said the power supply in the North West had been affected by the weather. There are reports of faults at Campsie and Sheriffs Mountain.