Ex-policeman is accused of robbery spree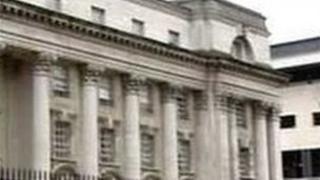 A former policeman allegedly took part in robberies across two towns in the same night, the High Court has heard.
The ex-PSNI officer is accused of being the getaway driver in robberies at two fast-food outlets and another failed raid on a sweet shop.
Details emerged as his co-accused applied for bail on charges over the hold-ups in Coleraine and Ballymena.
William Mercer, 22, of Cloughey Road, Portaferry, faces two counts of robbery and another of attempted robbery.
He is alleged to have gone into the Candy Bar in Ballymena, masked and carrying a hammer, on 15 November.
Nothing was stolen from those premises, but an hour later around £270 was taken from the Harbour Chip Shop in Coleraine.
Within minutes £900 was taken during a second raid on another fast-food restaurant in the town.
On both occasions the masked robber brandished a hammer, the court heard.
'Strongly contested'
CCTV footage was used to identify the 27-year-old man alleged to have driven the car used in all three incidents.
Two hammers and around £600 in notes and coins were recovered from his house.
Fiona O'Kane, prosecuting, said Mr Mercer was only located and arrested on Christmas Eve at his foster parents' home.
Opposing bail, she said: "Police are concerned about any further offences given the spree this applicant was (allegedly) on on the night in question."
Francis Raffery, defending, told the court his client "made no bones whatsoever" about his involvement.
But he stressed: "Any suggestion that he was the main mover behind this offence would be strongly contested.
"The co-accused is an ex-police officer. It would seem he was the driver."
According to Mr Rafferty the former officer was dismissed from the PSNI due to drugs-related issues.
The barrister added that Mr Mercer was heavily drunk on the day of the robberies.
He disclosed that his client suffers from foetal alcohol syndrome due to his birth mother's alleged drinking.
"It renders him, in the view of his foster parents, something of a vulnerable adult," he said.
Mr Mercer's application for bail was adjourned so that any relevant social services reports can be provided to the court.
The judge, Mr Justice Stephens, pointed out to counsel: "I'm not indicated one way or the other what the outcome will be."