Derry judge sends four to cells as phone rings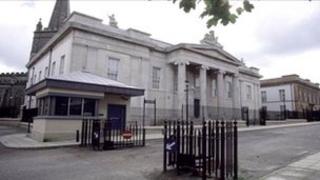 Four men taken to the cells at Londonderry Magistrates' court after a mobile phone rang in the public gallery have been released.
They were in the cells from 11:45 GMT to 13:20 GMT on Thursday.
Judge Barney McElholm ordered them detained after telling the courtroom that the next person whose phone went off would be held in contempt.
He said he detained the men because "they appeared to take mirth" out of his comments.
The judge later asked them if they were sorry. They said "Yes" and Judge McElholm replied: "Well we will leave it there then."