Police investigate 'large hole' in Fountain wall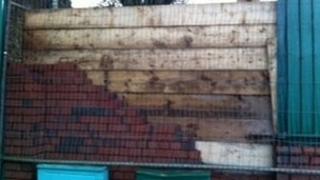 The police are investigating how a large hole was made in a security wall that separates the Fountain Estate and Bishop Street in Londonderry.
The damage was caused during the early hours of Saturday.
It is being treated as criminal damage.
Fountain resident Alistair Simpson said he heard "banging and thumping" on the wall between 01:00 and 03:30 GMT on Saturday.
"We heard the rumpus of people on Bishop Street.
"As well as the banging, they were shouting that they were 'coming for' an individual".
Mr Simpson said residents are alarmed that further damage could be done.
Dean Taylor also lives in the Fountain.
He said he is concerned for the safety of his fiancée and young son
"My fiancée was lying in bed when she heard a commotion outside.
"She said there was hammering and chiselling going on at the wall.
"The wall was put there for a reason to protect the people in the Fountain and other residents.
"Why destroy something that is protecting us?"
Repair work on the wall has started.
The police are appealing for information.