Hampson family pleased with Ombudsman progress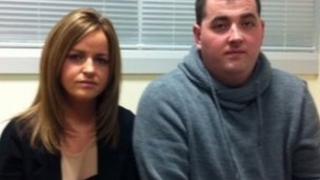 The family of a Derry man found dead in 2008 have said they are pleased with the progress of a Police Ombudsman investigation into the PSNI's handling of the case.
53-year-old Gerald Hampson disappeared in November 2007.
Monday marks the fourth anniversary of the discovery of Mr Hampson's body on the shores of Lough Neagh.
He was wanted by the police at the time for questioning in connection with an alleged kidnapping in Mullingar.
Mr Hampson's daughter, Bridgeen Carlin, said the family later complained to the Ombudsman because they felt the police did not take her father's disappearance seriously.
"The Ombudsman's office have done a lot for the family and helped us.
"They were able to tell us when his phone was last used and who he last phoned.
"I was constantly asking the police that and they never got back to me.
"We know we might not get the answers we are looking for but we just do not want any family to go through what we went through", she said.
Witness Appeal
Maggie O'Connor from the Pat Finucane Centre in Derry appealed for witnesses.
"I know it is a long time ago but I would ask anybody who knows anything to come forward.
"A number of witnesses have come forward since the Ombudsman's investigation.
"The investigation is still on-going and the family is being regularly updated on what is happening."
A spokesperson for the PSNI said they cannot comment as the case is being investigated by the Police Ombudsman.