Suspension for Derry Olympics hopeful Ryan Harrison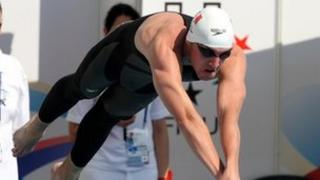 Londonderry Olympic hopeful Ryan Harrison has been suspended from his American college swimming team.
The reason being given is a "violation of team rules". Mr Harrison has issued a statement in which he denies taking illegal substances.
The 22-year-old is on a swimming scholarship at the University of Tennessee.
He has been suspended from the college team for the rest of the season.
He will not swim for the team at any championship swim meets. However, he will continue to train with them and remains eligible to take part in international swim meets.
The specific reason for Mr Harrison's suspension is unclear.
In a statement, he said: "I have never tested positive for any illegal substances and have taken many drug tests for the university, just like any other student athlete."
Mr Harrison's lawyer Donald A Bosch said in a statement: "I stand by and confirm his account of his suspension from the UT swimming program for the balance of the season for a violation of team rules."
Swim Ireland's national performance director, Peter Banks, said he had spoken to Mr Harrison on Monday.
"He is still in university, he is still part of the programme. They keep very much a closed book when someone is in violation. They say it is an internal matter and they deal with it internally.
"I know he has had issues with academics and keeping up his eligibility. I discussed that with Ryan before Christmas and that could be one of the issues.
"Our athletes get tested by particular agencies and we have not got any reports of any negative tests with Ryan".
Upset
Mr Banks said he has been told Mr Harrison's suspension will last until the college swim season ends in March.
"According to what the coach told me, Ryan will be eligible for next season and they were very keen to keep him within the college and the programme.
"He is a valuable member of the team.
"Ryan is upset because he wants to swim for the college team. He is disappointed it has come to this. But he realises he needs to get on and continue to train.
"He wants to try and make the Olympic team and he wants to continue to work towards that."
Mr Harrison started his swimming career in Derry at William Street Baths.
In 2011, he won the Derry and District Sports Council's Sports Personality Award.