New City boss pledges to give young players a chance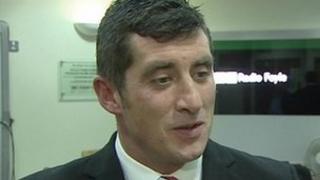 New Derry City manager Declan Devine has said he is happy to "promote young local talent" as he begins the task of building a new team at Brandywell.
The Derry City manager, who has been named as Stephen Kenny's successor, has confirmed seven youth team players will be joining the first team panel for pre-season training.
James Henry and Thomas McMonagle will be promoted into the senior squad.
Mr Devine has admitted it will be a huge task to replace some players.
Central defender Stewart Greacen has gone to Glentoran, while offensive players Gareth McGlynn, James McClean and last year's leading scorer in the Airtricity League, Eamon Zayed, have left the club.
Top Players
"It's difficult to replace players of that calibre", said Mr Devine.
"They were among the top players in the league.
"However myself and Paul Hegarty have identified players we feel would be assets to the club and we hope to bring them on board.
"We know the players we want, we will be working hard to replace the quality we have lost.
"The one thing we have in our favour is that Derry City is a fantastic club to play for, it's got fantastic supporters to generate a fantastic atmosphere, and not all of the time does it come down to money", he said.