Londonderry 'explosion' cause not yet determined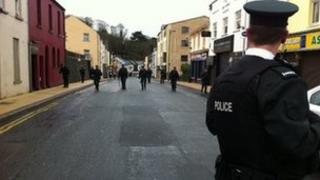 Police in Londonderry have said they have yet to determine the cause of a reported explosion heard in the Waterside area of the city on Tuesday.
Homes were evacuated in the Spencer Road and Fountain Hill areas.
Residents were allowed to return to their homes on Wednesday afternoon.
Police have said the Quarry Steps area off Spencer Road will remain closed off for a number of days while searches continue.
The incident was reported at about 17:00 GMT on Tuesday.
PSNI Superintendent Chris Yates said the explosion was heard all over the city, as far as City of Derry Airport which is 10km away.
Police are investigating a number of lines of enquiry, including reports that masked men were seen in the vicinity of Dunfield Terrace around the time of the incident.
Some residents have said they would have preferred more information from the police.
Rachel Keyes was evacuated from her home.
"It just does not seem fair when they cannot give you an explanation," she said.
"We would just like to know if we are still safe here, because police are still searching."
A PSNI spokesperson said police have made considerable efforts to keep residents and the wider community updated.
"We work very closely with councillors, community representatives and the City Centre Initiative to keep people informed," they said.
"We did our best to return people to their homes as soon as possible and when it was safe to do so.
"We will do our utmost to keep the public informed throughout this investigation."