Police in riot gear called to Altnagelvin hospital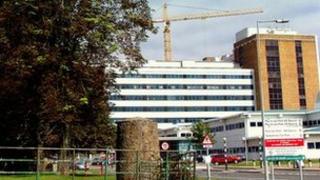 Police in riot gear were called to Altnagelvin Hospital in Londonderry on Wednesday.
It is believed they were called to deal with a man who was being aggressive towards staff.
The Western Trust has confirmed there was an incident at 00:30 GMT on Wednesday where police were called in to assist.
A spokesperson said no patients were harmed as a result of the incident.
SDLP Foyle MLA Pat Ramsey was in the hospital's Accident and Emergency department at the time.
"I was there with a relative. Three police officers came in seeking a person and then they left.
"Within five minutes, there were four officers. They came in, clearly in riot gear, and with shields.
"If one was to see that on the street, one would become alarmed and shocked.
"But to see it in the corridors of our local hospital, it was a shock to the system."
Fire Extinguisher
Mr Ramsey said the man was wielding a weapon.
"I understand there was a knife involved and there was a fire extinguisher thrown at staff.
"Thankfully no-one was hurt.
"It really puts into context what staff, doctors and nurses have to endure on a continuing basis", he added.
A PSNI spokesperson confirmed that police were in attendance at the hospital but that no crimes were noted.
A spokesperson for the Western Trust said due to patient/client confidentiality they are unable to make any further comment on the matter.