Derry interface residents rally against attacks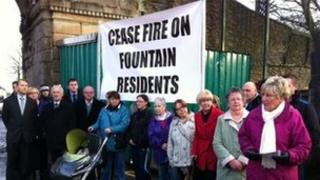 Residents from both sides of the Fountain estate and Bishop Street interface in Londonderry have held a rally against attacks in the area.
A large hole was made in a security wall that separates both areas in the early hours of Saturday morning.
Police are treating the incident as criminal damage.
Fountain community worker Jeanette Warke said people on both sides of the community have had enough.
"I am very heartened when I see the turn-out and the broad group of people that have come here from all different backgrounds. Hopefully we are singing off the same hymn sheet.
"The Fountain community does feel vulnerable."
Sean McMonagle from Triax Neighbourhood Management said it was important for people to come together to show solidarity.
"Any acts of vandalism and anti-social behaviour should be faced down.
"Particularly so, if there is a sectarian undertone.
"There has been great work done in this area over the last two years that have brought attacks such as this down to a minimum.
"It is important that we stand up and say that this is not going to start up again."