Derry culture company slams critics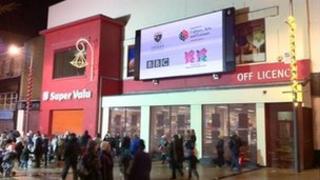 The organisation overseeing Londonderry's year as UK City of Culture has hit back at criticism of its work.
Martin Bradley from the Culture Company said it was "petty, erroneous, misdirected and unjustified".
Critics said progress had been too slow and communication was poor.
Mr Bradley said the organisation was being "choked by red tape" and it wanted to get on with planning the programme for 2013.
"The Culture Company team have been working night and day to engage with the city community and the arts world as a whole," he said.
"And a whole series of other announcements will be made within the coming months - including our complete draft programme of events in April and the full programme in September.
"In spite of this we find that we have been subject to intense petty criticism this week, all of it erroneous, misdirected and unjustified.
"The amount of time we have wasted addressing completely inaccurate comments about branding and alleged snubs to city stakeholders has been extraordinary."
On Thursday, the SDLP, DUP and Sinn Fein said the pace of progress had been too slow. They also criticised what they said was a lack of communication from the Culture company.
Community and arts groups had also expressed concern.
Niall McCaughan from the Playhouse said: "We want this to succeed but the Culture company must get on with it."
"We had a lot of communication up to the bid, but since we won the bid we seem to have lost that.
"We need to go into fifth gear to make it happen and that means all of us. It's not simply down to City of Culture but I think they really need to move forward."