House attack: resident may leave Northern Ireland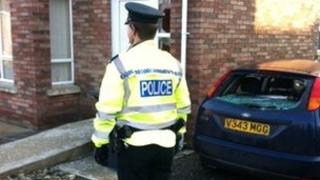 A woman whose home in Dungiven was attacked on Monday evening has said she feels so afraid she may leave Northern Ireland.
The police are investigating reports that two men fired shots at the house in the Arches area of Dungiven, at about 21.45 GMT.
Seven windows were smashed, including glass panels around the front door, and the windows of a car parked in the driveway.
There are no reports of any injuries.
The woman who lives in the house asked not to be identified.
She was not at home at the time of the attack, and said her mother had been there by herself when it happened.
"She phoned, panicking," she said. "She said that something had happened to the house and she thought the windows had been shot in, but she was not sure.
"Then I came and saw all the windows and the glass on the car and then the police came."
The woman said she couldn't understand why her house had been singled out.
"I just can't understand why it's happened," she said. "I'm baffled to be perfectly honest."
She is originally from Scotland, but has lived in Dungiven for more than three years.
Up to now, she said, she found everyone to be pleasant and her neighbours helpful.
"I never had any trouble," she said. "I never thought I would have any trouble.
"I'm seriously considering going back home. I don't feel safe here any more, so I don't see the point in staying."
The Mayor of Limavady, Sean McGlinchy, lives in Dungiven, and spent time with the family on Monday evening.
He said it was shocking for a Scottish family to be thrust into the middle of what they took to be a gun attack.
"There were a lot of neighbours about and there was a lot of emotion," he said.
"The young girl in the house and her mother and were very upset, and traumatised."
The police say the two attackers made off in a silver BMW car. They are still trying to confirm if shots were fired.