Sixty dog attacks in Derry in 2011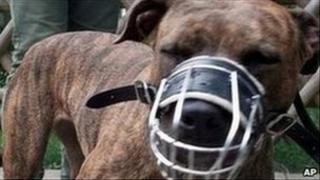 Derry City Council have issued a warning about dog attacks after figures released detailed the number of incidents being investigated by local councils.
Last year Derry City Council dealt with 60 dog attacks.
In one incident a dog re-homed by Derry City council had to be destroyed after it attacked a child.
Enda Cummings, senior environmental health officer with the council, said they respond to every dog attack.
"In terms of the type of attack it will range from the apprehension of an attack, where the person feels a dog could bite them. Up to an aggravated attack.
"That's when a person actually sustains a physical injury when they're out in a public area.
32 stitches
"Our dog warden was very badly injured. One of the worst cases I have come across where he needed 32 stitches.
"We've had cases over the years where children were also badly injured.
"If it is a serious case, we will always prosecute on the basis of evidence."
There were 18 cases investigated in Limavady and four attacks in Strabane.
In 2011 new legislation was introduced to tackle dog attacks.
The law includes compulsory micro chipping and will make it an offence to allow a dog to attack and injure another person's dog.
The Dogs (Amendment) Bill updated the Dogs (NI) Order 1983.