£120,000 spent on Strabane courthouse which could close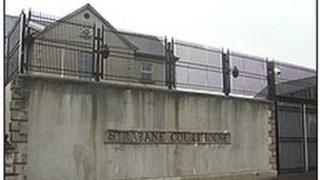 It has emerged the court service spent around £120,000 refurbishing Strabane courthouse last year, which has been earmarked for possible closure.
The figure was released in a Freedom of Information request to the Strabane Chronicle newspaper.
In December the Northern Ireland Court Service launched a public consultation into the economic viability of Strabane and four other courthouses.
Karina Carlin, a solicitor and Sinn Fein councillor in Strabane said
the expenditure is "beggers belief."
Beggers belief
"When people hear this news, they're not going to appreciate spending that type of money on a building that the department of justice seems hell bent on closing," she said.
The Court Service described the security works as "essential" and said that while they were completed in November, they began last May.
If the security work had not been completed during 2011 the cost would have been an addition to the estimated £440,000 required to make the courthouse fit for purpose.